June 2005
Camp Coho assembles at the speed of growing grass, a good day's labor stretches to fill the spaces of a week. The punch line for the light-bulb joke at Kerrville would be (n). One to change the bulb and (n-1) to talk about how nice the old bulb was.
I am reminded of my friend Felix who runs an auto repair business back in South Florida with no more than a good set of Snap-on tools and one old heavy plastic land-line telephone. He has no business website or email, no fax or pager or cell phone. He says, "How fast do I need to do everything in order to have enough time to do what I want to do?"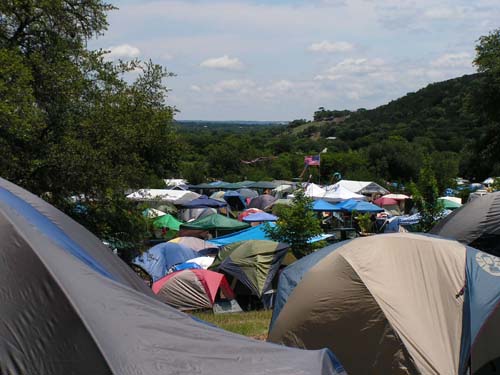 Efficiency and Productivity, the twin gods to whom we burn ourselves as offerings outside this quiet valley lose their sway, something in the air disagrees with such worship, and they are left to wait outside in the ditch by the mixmaster gate. A church is not hastily built, a camp is more than shade and seats, and the rituals of it's raising are a sacrament of sorts. From Crow's Nest to Coho the village griots speak the histories and happenings of camps past, weave them into these new temples of tent and tarp. We come days early, lend a hand where needed, sit and stretch and raise a glass when called to laud and praise those bulbs now gone.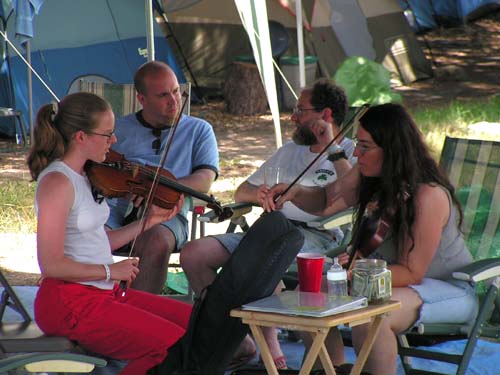 More so than others, Kerrville is a songwriter's festival, and while the booked acts may be the excuse to gather, the bindings of this gathering are found when the mainstage goes dark, with sleep a rumor, in rings of armless chairs, in the song circles of canvas churches, jongleurs in waiting and training, acolytes and axe-grinders and egos with elbows mix songs with royalty crowned and ascending. I fall into passive mode, missing opportunities to play, or perhaps trading them for chances to listen.
I hear Richard Berman for the first time at Camp Nashville, "Three Men Go to Heaven", the best song I heard this trip onstage or off. My ears are better these days than they were three years ago when I heard Andrew Calhoun at Susan Moss's and didn't get it. Each year since he has been like a book you read again after some growing, and I look forward to seeing how much better he'll be next year. I have so much to learn.
The Rachel Bissex tribute opened on mainstage with Ellen Bukstel, clear solo voice on "For Florence", ending with Eric Schwartz on "Into White Light". The tribute CD, "Remembering Rachel" is available now on CDBaby, all proceeds going to the scholarship fund for Rachel's children. More info at rachelbissex.org.